Precision Garage Door of Simi Valley
New Garage Door Openers, Repair & Professional Installation
Serving Simi Valley, Ventura County, Western San Fernando Valley & Santa Barbara California
We install and repair all makes and models of garage door openers. If you are having a problem with your opener call us. We will inspect your opener and let you know exactly what options you have to get your door working properly again. . If you need garage door opener repair, we'll fix it. If your opener needs to be replaced we'll install a new one. We can often repair your opener at a fraction of the cost of replacement. Call us now for same day service. Call now.
Quickly Learn Which Garage Door Opener Is Best For You...
There are 3 Main Types of Openers:
Chain Driven Openers- - Chain drives are typically the most commonly used and a very reliable type of opener. This drive runs the garage door on its track by using a metal chain. Chain drives are slightly cheaper than belt drives. Chain drive openers tend to be noisy, so if your garage is located below or adjacent to the main rooms in your home, you don't want this opener. We typically don't recommend these types of openers because the small saving isn't worth it. Liftmaster® does not warranty the chain for life like it does the belt on the belt drives and the motor is much noisier.
Belt Driven Openers-Belt drives are regarded in the garage door industry as the best type of opener. Not only are belt drives as reliable as chain drives, but they are also virtually silent. This drive runs on a rubber belt and is typically more expensive than chain drive openers. If your garage is attached to your home and has surrounding bedrooms, you'll never be bothered by the noise of your garage door.
Screw Driven Openers- Screw drive openers use a lifting device that runs on a threaded steel rod, rather than a chain or a rubber belt. These openers tend to work best in locations where the weather and temperature is constant throughout the year. These openers are common in Southern California. Screw drive openers are recommended on one-piece garage doors.
PDS800® Newton DC Powered Garage Door Operator
Features:
Eco-Friendly


Efficient design results in ongoing energy savings.

Ultra-Smooth and Quiet Operation


Variable speed operation delivers ultra-smooth, quiet performance, increasing long-term reliability.

Safety First, Safety Always


If the obstacle-sensing beam is crossed when the door is closing, the door reverses to fully open.

Park or Reverse Door


To permit both ventilation and access, the garage door can be stopped and parked during either upward or downward travel.

Secure, Responsive Remote Control


Linear remote controls operate over a long range and employ high-security technology.

Deluxe Wall Station


All controls are large, clearly marked and illuminated (door UP/DOWN control, courtesy light switch, and vacation mode).

Automatic Courtesy Light


A built-in 100W MAX light illuminates the garage for five minutes every time the operator is used.

Easy Door Release


When you need to open or close the garage door manually, simply release the operator's quick-disconnect trolley.
---
Liftmaster Models Recommended For Installation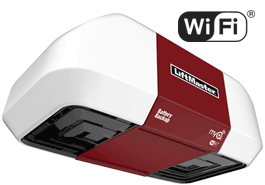 8550W DC Battery Backup Belt Drive
Includes 3-button elite remote control and smart control panel
Confidently know what's going on at home with MyQ® Technology. It lets you monitor and control your Garage Door Opener and home lighting from anywhere (when paired with the Internet Gateway).
Receive email or text alerts so you always know the status of your garage door and home lighting.
Download the MyQ® mobile app for free. No annual activation fee required.
Compatible with HomeLink®
Requires 828LM MyQ Internet Gateway to connect to MyQ Smartphone App.
Get in your garage even when the power is out with Battery Backup.
Always know your garage door is closed with Timer-to-Close, which automatically close the door after a pre-programmed number of minutes.
Have your Garage Door Opener's lights turn on when you enter the garage with the Motion Detector feature.
Prevent the door from closing if anything interrupts the safety beam that crosses the garage door opening..
Lock down your garage door and electronically monitor against a forced opening with PosiLock®.
Lifetime motor and belt, five-year parts and one-year Battery Backup warranties.
---
8500W Direct Drive Opener - Jackshaft
LiftMaster 8500W - Today's garages go far beyond a place to merely park your car. So no matter if you want the extra storage space up above, have an oversized garage door, or even a cathedral ceiling, the LiftMaster® model 8500W Residential Jackshaft Opener is the perfectly engineered solution to fit your specific garage door opener requirements.
It mounts easily on the wall beside the garage door, and comes with a remote 200-watt light that can be positioned anywhere in the garage. The optional EverCharge® Standby Power System - that continues to operate your opener even when the power goes out - makes it even more convenient.
Features:
Connectivity
Wall mount design frees up ceiling space in your garage, reduces noise and vibration.
Built-in Wi-Fi® allows for smartphone control with the myQ® app.
Battery Backup allows you to open/close your door even when the power is out.
Includes myQ Remote LED Light featuring 1,500 lumens.
Automatic Garage Door Lock deadbolts your door after closing.
Enables secure in-garage delivery for Amazon Prime packages.
Performance


P3™ Motors from LiftMaster® are reliable, durable and powerful – designed specifically for your needs
Ultra-quiet eliminates sound and vibration through the ceiling – perfect if you have a home with a room above or next to the garage.
Lifetime motor and 5-year parts warranty.


Security


Security+ 2.0™ safeguards your household – with every click a new code is sent to the garage door opener so that the door opens only for you.
Alert-2-Close warning system provides audible and visual warnings when the garage door is about to close when using MyQ technology or Timer-to-Close.
Motion detector activates the garage door opener lights as soon as you walk in so no more fumbling in the dark.
The Protector System® has safety sensors that project a light beam across the garage door opening automatically reversing the door if anything interrupts the beam.
Power Lock Deadbolt ensures the door cannot be forced open.
Proper Garage Door Opener Installation

You also need to be sure the garage door opener you purchase is installed properly. Please invest 4 minutes in watching this video. Although it begins a bit like a commercial you will learn the difference between a proper garage door opener installation and one riddled with shortcuts. When your new garage door opener is installed correctly you will enjoy it for a long, long time.


Do not hesitate to call us today at any of our locations to learn more about our openers. We will be happy to answer any further questions.